Who is Andrea?
In a nutshell:
I love to explore new things and I love to empower others to extend their horizons.
I was born into a farming family in Germany. As long as I can remember l have risen to challenges and enjoy exploring new horizons. Mostly with much trepidation, having to overcome my insecurities and a lack of resources.
So far my explorations have taken me from working with refugees to co-founding an NGO to working in HR to carrying out academic research projects to lecturing students at a university to now working through Saling2012Ltd
A common theme is that I enjoy assisting others in reaching their potential. I love working cross-culturally with people from different cultural, social and language backgrounds.
Along the way I have gained professional qualifications, graduated from universities, published a book, book chapters and journal articles….:
2012 Postgraduate Cert. in Teaching & Learning for Higher Education with Distinction
2005 PhD: University of East Anglia, International Development Title: 'Internationally Qualified Migrant Nurses in British Health Care Employment: their motivation, integration and contribution to capacity.' ESRC Studentship grant.
2000 MSc Industrial Relations and Personnel Management & MCIPD: London School of Economics
1996 MSc International Health: Queen Margaret  Univ., Edinburgh
I never stop learning and continue my own development through association and collaboration with professionals:
I have fun working and also do some fun things outside work! This year I am teaching myself to explore local rivers using an SUP (stand-up-paddleboard) which I added to my kayak. Further afield I go sailing with my husband and since we are equally qualified, we enjoy confusing people by saying that we are both the 'captain.' In reality we complement each other by having different strengths. I also love to be creative and enjoy beauty in art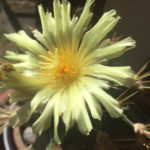 and our surroundings.
This cactus was a gift from a friend some 30+ years ago and only recently has it rewarded my TLC by presenting beautiful flowers – there is a lesson here about patience and perseverance!